Today, 11 november 2020, PDP2011 turns 11 – in octal, what else, and for sure I'll celebrate again in two years when it'll be 11 decimal. And again when it'll be 11 in hex. Counting from the day I announced PDP2011 to the public, of course – by then I had already been working on it for a couple of years. By then, it ran most of what it does today – it had about all the same peripherals and the FPU already, but also it didn't understand about SDHC cards, and trying to compile something on Unix would crash. It feels so long ago that I found that bug…
To be honest, I'm still quite amazed – that my first serious endeavour to do something with FPGAs would turn out to be a complete system, and that when running it it reaching uptimes of hundreds of days easily – something that I don't quite remember the actual machines back in the day ever doing.
And while it hasn't quite gone viral – not that I'm looking for any of that, I should add – it had reached quite a few places, and my mailbox, while not exactly overflowing with questions, tends to become active whenever I leave my lab – or when I'm forced by circumstances to dismantle my lab. Possibly there's a weak correlation with holidays there… luckily, most people take a long view and seem quite happy with a reply – even if it comes months later. And that suits my preferred way of communication too.
Looking back to when I started the project – I'm not quite sure when that was, because I didn't use version management and change logs from the beginning – I was never set on a goal of a complete system, or even a working CPU. I just wanted to see if I could 'get it to work', without being too specific on what that meant. And when it started working, there was always the next thing that would be nice if that would work as well – up to today, and this summer's addition of SDHC card support.
And, what I'm announcing today: the MINC. A sort of happy birthday present for the PDP2011!
Well, I'm not going to tell everything today, but it's almost finished already and I'll publish it soon. More tomorrow!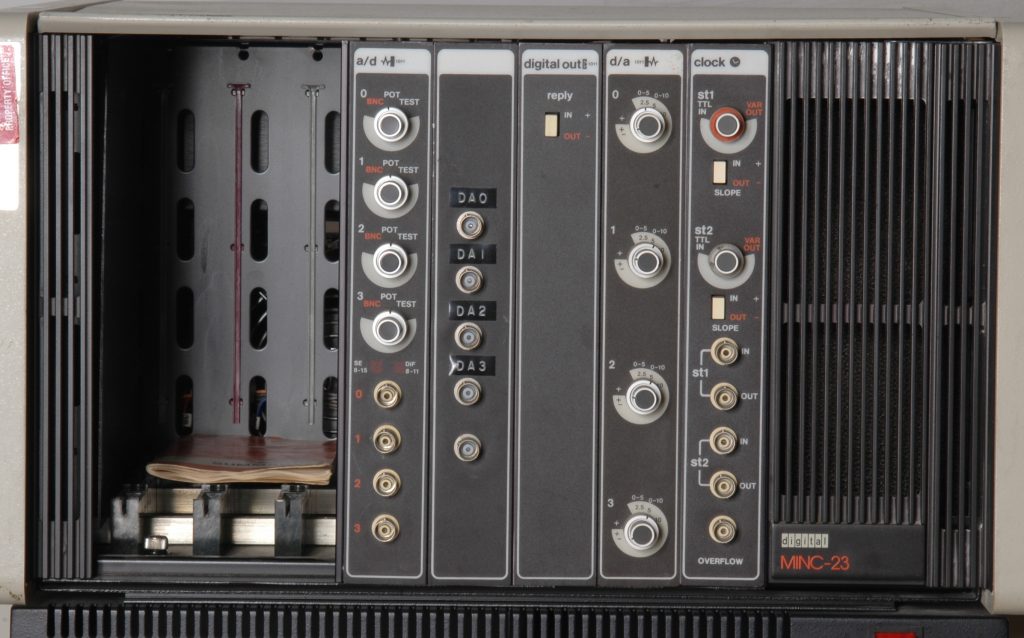 (no that's not my MINC and I didn't even make the photo – in fact I've never even seen a MINC for real…)